Richard Arias-Hernandez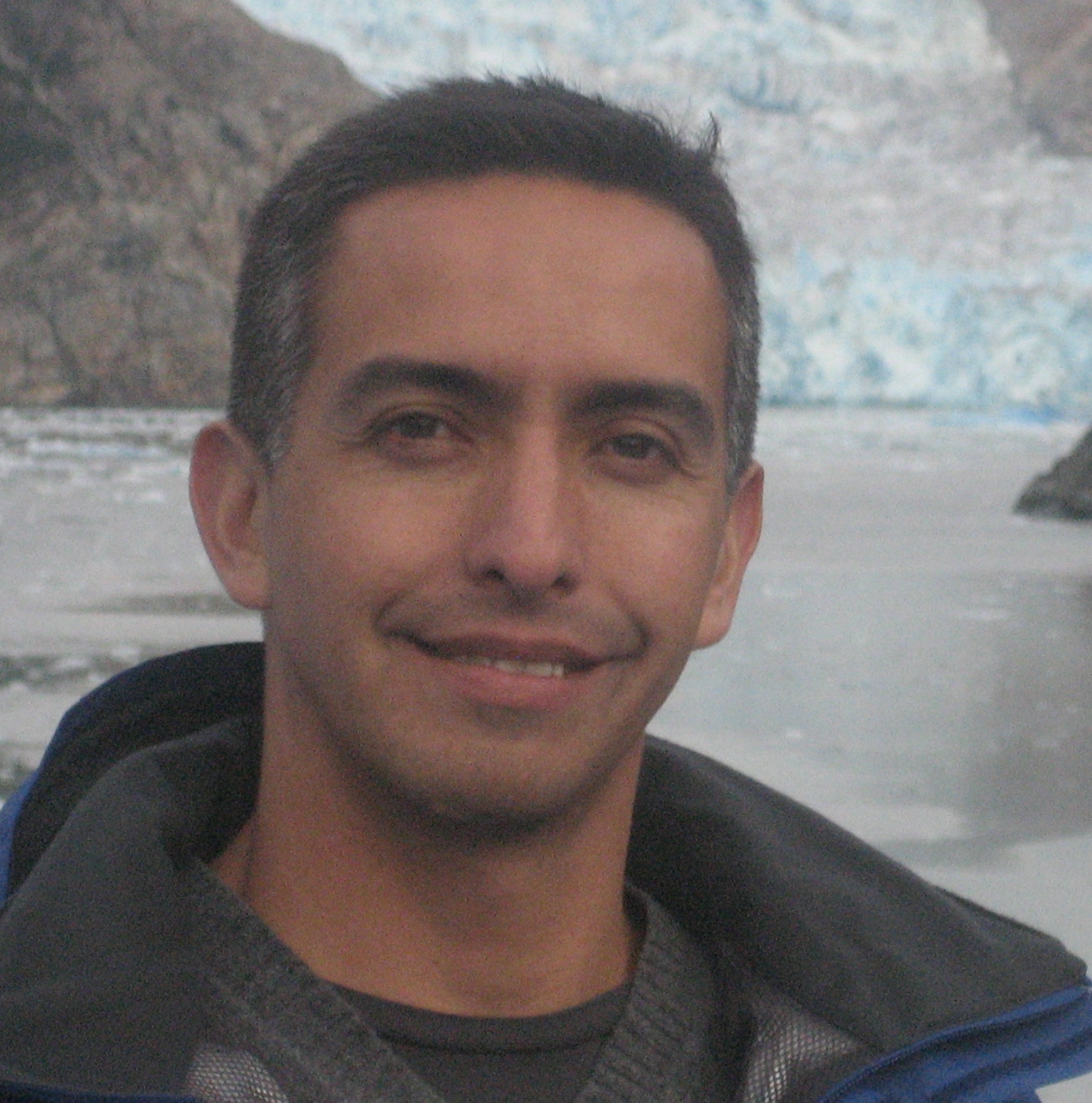 Richard Arias-Hernandez holds a Ph.D. in science and technology studies from Rensselaer Polytechnic Institute. He is a postdoc fellow at the SCIENCE lab, School of Interactive Arts and Technology, Simon Fraser University. His current research applies psycholinguistics and symbolic interactionism to the study of visual analytics mediated interaction and collaboration.
E-mail: ariasher@sfu.ca
---
Current Research Projects:
Pair Analytics and Joint Action Theory: Cognition and Interaction in Collaborative Visual Analytics. This research uses Herbert Clark's psycholinguistic theory of language in use to characterize and understand human-human and human-information interaction in collaborative visual analytics. The goal of this research is to determine how specific behaviors of human-human, human-artifacts, and human-information interaction play a role in cognitive phenomena such as: cognitive workload, navigation of analytical tasks, coordinated and synchronized actions, and peripheral monitoring of cognitive states of other human actors. This knowledge can then be applied in interaction design of visual analytics.

Visual Analytics for Emergency Management. Funded by a NSERC Strategic grant, this 3-year project explores the situated models of analytical work of first responders and emergency managers in the Great Vancouver Metro Area. For emergency preparedness we support analysis and evaluation of risk and vulnerability, including novel threats and innovative approaches to preventing and countering them. For emergency response we implement technology to support a robust "system-of-systems" approach to interoperability. For both we examine the impact of changes in information technology (e.g. social software, sensor technologies) and how they might be utilized to support (or if not controlled, may impair) emergency preparedness and response.

Visualizations in Coordination Centres: This sociological and anthropological research compares analytical work and decision-making aided by visual representations in the following domains: aircraft traffic control, command and control, public transit control, and emergency response. The goal of this research is to describe the mechanisms by which visual displays are used in coordination centers to sustain effective team coordination and collaboration in the execution of joint tasks. the results of this research are expected to generate models that could inform interactive design of visual analytic tools.

Inclusive Visual Analytics: This sociological and anthropological research focuses on socially and culturally shaped cognitive differences that impact quantitatively and qualitatively on the performance of visual analysis. the results of this research are expected to generate situated models that cut accross social and cultural categories to include social groups that have been traditionally ignored or neglected by the mainstream universal models currently used in visual analytics.
---
Research Contributions:
Articles published in refereed journals:
Arias-Hernandez, R., Green.T.M., and Fisher, B. 2012. "From cognitive amplifiers to cognitive prostheses: understandings of the material basis of cognition in visual analytics." In: Carusi, A. and Sissel Hoel, A. (Eds.), Computational picturing, imaging and visualising. Special Issue for Interdisciplinary Science Reviews 37(1). Maney Publishing: London, UK.

Arias-Hernandez, R., Dill J., Green, T.M., and Fisher, B. 2011. "Visual Analytics and Human Computer Interaction," Interactions, Vol. 18, No. 1, January-February, 2011, pp. 51-55. Association for Computing Machinery.

Green,T.M., Arias-Hernandez, R. and Fisher,B. (2012). Individual differences and translational science for human centric visualizations. In: Wang, W.( Ed.) Human Centric Visualization. (In press)


Fisher, B., Green, T.M., Arias-Hernandez, R. 2011. "Visual analytics as a translational science," TopiCS in Cognitive Science, Vol. 3, No. 3, pp. 609-625. Wiley-Blackwell.

Arias, R. 2004. "Learning Communities that Build Appropriate Technology." World Futures Journal, January-March 2004. Volume 60, Numbers 1-2. Routledge.
Other refereed contributions (i.e. papers in refereed conference proceedings)
| | |
| --- | --- |
| | Arias-Hernandez, R. and Fisher, B., 2013, "The 'Tunnel Vision' Effect: Structuring of Attention and Use of Digital Technologies in Emergency Operation Centers," Proceedings of the 2013 IEEE International Multidisciplinary Conference on Cognitive Methods in Situation Awareness and Decision Support (CogSIMA), February 26-28, San Diego, CA. IEEE Digital Library. |
| | Arias-Hernandez, R. and Fisher, B., 2013, "An Interaction Approach to Enhance Situational Awareness and the Production of Anticipatory Actions in Emergency Operation Centers," Proceedings of the 10th International ISCRAM Conference – Baden-Baden, Germany, May 2013, T. Comes, F. Fiedrich, S. Fortier, J. Geldermann and L. Yang, eds. |
| | Arias-Hernandez, R. and Fisher, B., 2013, "A Qualitative Methodology for the Design of Visual Analytic Tools for Emergency Operation Centers," Proceedings of the 46th Annual Hawaii International Conference on System Sciences. IEEE Digital Library. |
| | Diaz, P., Aedo, I., Arias, R., and Diez, D., 2012, "Towards Emergency 2.0: Social Media and Civil Engagement in Emergency Management," Proceedings of the 10th International Conference on the Design of Cooperative Systems, May 30 - June 1, Marseille France, Springer, ACM Digital Library |
| | Arias-Hernandez, R., Kaastra, L.T., and Fisher, B. 2011, "Joint Action Theory and Pair Analytics: In-vivo Studies of Cognition and Social Interaction in Collaborative Visual Analytics." In L. Carlson, C.Hoelscher, and T. Shipley (Eds.), Proceedings of the 33rd Annual Conference of the Cognitive Science Society (pp. 3244-3249). Austin TX: Cognitive Science Society. |
| | Al-Hajj, S., Arias-Hernandez, R. and Fisher, B. 2011. "Interactive Visualization for Analyzing and Understanding Immunological Data." Proceedings of IEEE Visual Analytics in Health Care Workshop 2011: Understanding the Physician Perspective (pp. 45-48). October 2011. |
| | Arias-Hernandez, R., Kaastra, L.T., and Fisher, B. 2011, "Pair Analytics: Capturing Reasoning Processes in Collaborative Visual Analytics." Proceedings of HICSS 2011, Jan. 4-7, 2011. Kauai, HI |
| | Green, T.M., Wakkary, R., Arias-Hernandez, R. 2011, "Expanding the scope: Interaction Design perspectives for visual analytics." Proceedings of HICSS-44, Jan. 4-7, 2011. Computer Society Press. 10 pages. |
| | Arias-Hernandez, R., Kaastra, L.T., and Fisher, B. 2010. "Pair Analytics and Joint Action Theory: A Research Protocol to Study Cognition and Interaction in Visual Analytics." Poster presented at CogSci 2010, Portland, OR, on August 12th, 2010. |
| | Arias-Hernandez, R., 2008,"Engineering the Information Society: A Social Worlds/Arenas Analysis of Engineering in Government and Non-Governmental Organizations in Colombia," Unpublished dissertation. Rensselaer Polytechnic Institute, Troy, NY. 330 Pages. Accepted on: Nov.15th, 2008. |
| | Lleras, E., Arias-Hernandez, R. 2001. "A Learning Community as an Experiment in Local Development." Proceedings of OR41. Bath, UK. 2001. 20 pages. Accepted on: September, 1st 2001 |